So I hurriedly took a few last pictures of Morib, and we gathered ourselves back into the stationwagon, and we headed down to Port Dickson, in Negri Sembilan. I have to say that the coast road is really very scenic, especially compared to the dull north-south highway. We travelled through the Guthrie plantations, and saw quite a number of planes, all probably heading towards (or from) the Kuala Lumpur International Airport, which was nearby (pics below).
Port Dickson is one of those places which reminds me of my childhood, like Fraser's Hill and Mimaland. We used to go down quite often when we were children, and stay at Headlands, a KTM-staff getaway. It was a beautiful white colonial-style house, on a hill on a peninsula down in Port Dickson. Unfortunately, not only has the house been razed down, but the hill flattened as well. All in the name of development…
We reached Port Dickson quite soon, passing through the huge electrical towers, which I used to think were static giant robots when I was a child (left pic above). The town centre itself has expanded, but the older shops are largely still there (right pic above). We stopped by the Port Authority and Customs at the town's pier (left pic below) to take a picture of two boats which has been on that shore since I can remember (right pic below).
| | |
| --- | --- |
| | |
The older parts of Port Dickson hasn't changed much, and the coast road is still pretty to drive along (left pic below). Along the way, we passed by the "buaka puasa"(breaking of fast) stalls (right pic below), and thought of stopping to get our dinner. We decided to backtrack when we were done with the beach. As we were going down to my brother's "secret" beach, we passed by a huge temple (left pic, further below) and also a cemetary (right pic, further below), both of which I can't remember at all from my childhood trips down to PD. I also saw a number of broken down old houses, like the one in the large pic, even further below.
| | |
| --- | --- |
| | |
| | |
| --- | --- |
| | |
When we reached my brother's "secret" beach, we discovered it wasn't so secret after all. The tide was still out, and there were quite a number of beach combers. The sand was rougher than that on Morib's beach, but the shoreline looked cleaner, and the sea more welcoming and less muddy, although the sand was courser. Unfortunately, the development of a condo block (yet another) marred the landscape. I also discovered a few old ruined colonial houses, used as pastures for cows and bulls.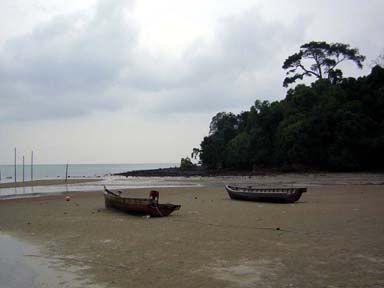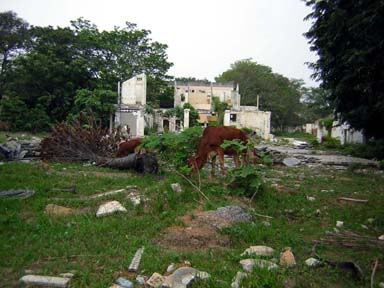 We called it a day after that, and made our way back to Kuala Lumpur. We were so tired, we forgot all about getting food from the stalls. We stopped at the Nilai rest stop on the way up for some drinks. Needless to say, I grabbed some pictures of the highway (left pic, below) and the rest stop (right pic, below) for the blog.