Happy Boxing Day! 🤜🏽👊🏽🤛🏽!!!
This year will be the year I remember for having a knee injury. In 2011, I went for an operation for a totally ruptured bicep tendon. About two years later, I fell down some metal steps into a drain one rainy evening and hurt my elbow. These are the three major joint injuries I experienced over the past five years or so. In addition, of course, there were many falls during boot camp sessions, including the 8 stitches on my forehead. Plus, I'm not getting any younger.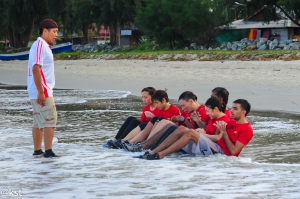 Still, there is quite a lot of pressure for me to perform and to look good. My knee injury came about because I was trying to lose weight so that I could "look good" as a fitness trainer should. Forgetting that I am in my forties, I did hundreds of burpees, nearly on a daily basis. The jump forwards and ups really did it in for me! [Let me add that it is not the burpees fault but mine for being so single-minded about trying to lose weight.]
After the injury, there always arose a situation where someone would say "Show us!" when I asked them to do something in class, whether it be in a fitness session or in a yoga class. Sometimes I would decline, sometimes when the knee was feeling better, I might try to demo, then instantly regret it.
You see, trainers are human too. Before Activ Studio closed for renovations in December, Wenisa and I were comparing "war injuries", while pinching the fat around our midlines. Our sessions with clients or our classes are physically demanding, and then we usually work out or practice some yoga too. Sometimes, in view of our career, we test new classes to see how we like it and what we can incorporate into our own classes / our own clients' workouts or into our own workouts. That's a lot of physical activity.
We love what we do because we love doing it. And we love sharing that with the world. It is one of the hazards of the career, of course I know this. But our bodies are not machines, notwithstanding all the fitness memes that say this. I remember once during boot camp, one of the participants, who ironically had put on weight herself, said to me, "Since you started getting serious about yoga, you got fat!" I wasn't whether I should laugh or cry, being body shamed by my own client!
Now that I have joined a gym, I notice practically all the male personal trainers (and one yoga teacher I saw) is heavier than I am. I wonder if they actually feel intimidated or a little embarrassed that many members look fitter than them. I won't ask them, I don't mean to shame them, but I just wonder what is happening in their mind.
Anyway, yoga has helped me let go a lot, about looking good and performing well. Being happy with what I can achieve and how I look at present has helped to soften the drive, which I feel is important as my body grows older. Of course, this has to be balanced with being too complacent and not achieving my full potential. Notions like ahimsa, nonviolence; satya, truthfulness (especially to oneself); karuna, compassion: these wisdoms should be our guiding light when it comes to our body and how we treat it.
I should know, I have driven myself to countless injuries but those days are now gone. What about you? Tell me your fitness injury stories!