Hong Kong had some super fine weather during the Christmas season. People were telling us how cold it was, and so I dutifully packed my woollen jumper and the warmest shoes and socks I had. Note to self: next time, don't listen to other people! The weather was sunny and cool, ranging between 18 degrees Celsius to about 22. It never really got too hot or too cold. Evenings were about 15 but I think one evening it went to about 12 degrees. And it didn't rain, except on the last night, it kinda drizzled.
So both Eddy and I discovered how expensive food was the first night we arrived. We bought some sandwiches for breakfast (pretty affordable in comparison to other food) and stored them in the hotel fridge. Our day after breakfast basically was to meet one of Eddy's old friends, who has migrated to Hong Kong, and then play by ear; see the city etc.
We took Hong Kong's Mass Transit Railway (MTR) to Jordan to meet his friend. One of the things about Hong Kong that really reminds me of London is the MTR. It's so similar to the London Underground that I felt deja-vu often, as we walked from platform to platform to change trains, or when checking how to get from one station to the next, or which platform to head to, it was just so similar.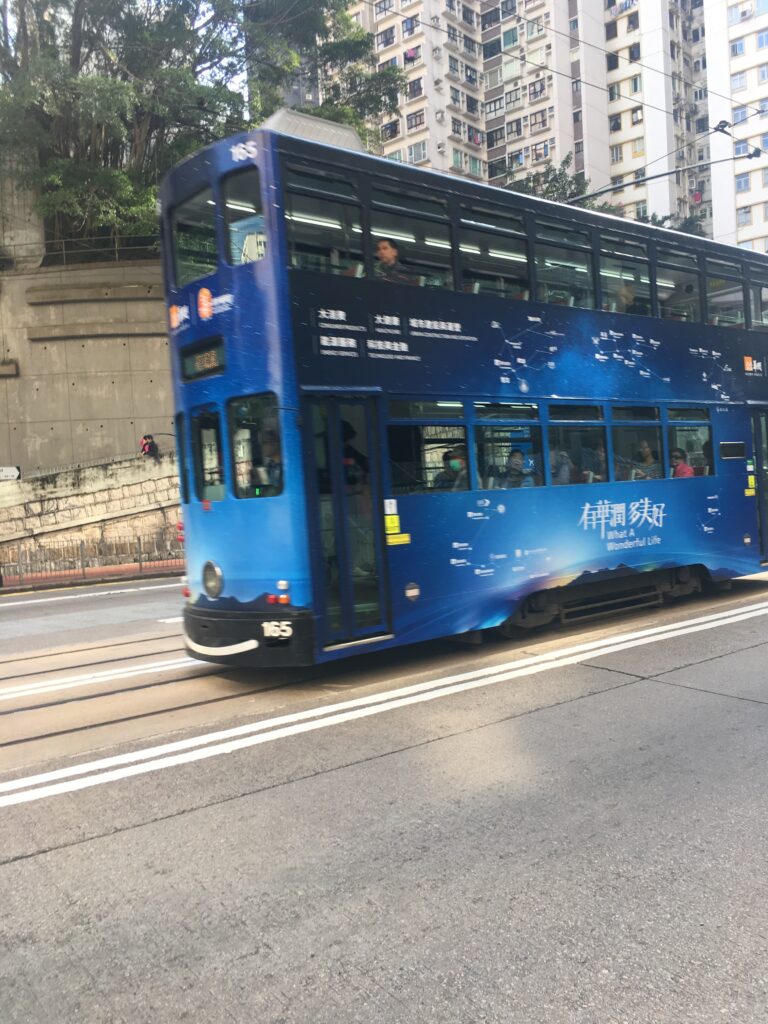 One difference was the retro 70s tiles that many of the MTR stations use. That made the MTR stations feel a little different from London's Underground. Still, there was more similarities than differences and it made me feel very comfortable to be in that environment.
At the Jordan station, I was introduced to Eddy's old friend and she decided to take us to the best won ton noodles she knows, followed by some steamed egg and steamed milk dessert in another shop in the vicinity. The noodles were teeny tiny portions but tasted loads better than what we sampled the night before. But it wasn't enough. Both of us had to have another portion, and the second round I tried the beef brisket, which was slightly tastier, although beef isn't my favourite meat.
The desserts were much better but cost even more than the main meal. They were warm steamed desserts, and I found the milk one better as the egg one had a really strong egg smell.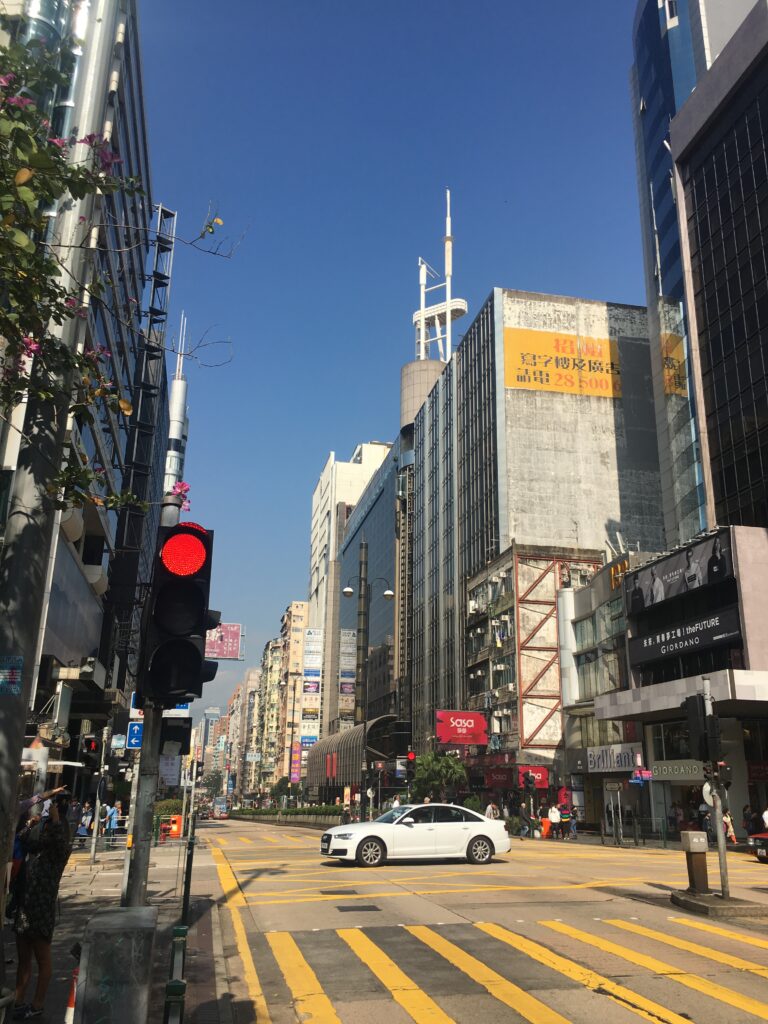 It was getting close to 12 pm so most of the eateries had queues already for food. However, unlike the Hong Kong restaurants in London that I had experienced, or even what we had been warned about, the waiters and waitresses didn't rush us or chase us out after we had eaten. Hong Kong is softening down!
After the meal, Eddy's friend had to go and so we decided to walk down Nathan Road towards the harbour. Nathan Road is really charming, reminding me of Singapore in the early 80s before the crazy buildings started to spring up all around the shopping district there. Yes, Nathan Road is a shopping haven, with many a branded goods store. The street was overhung by huge old green trees (take note, Kuala Lumpur) and although low and overhanging, none of them had been chopped down.
Again, along Nathan Road, I was reminded a bit of London. Rather than huge malls (looking at you KL!), the shops along Nathan Road were old shops, refurbished for modern retail. A little down the street, we saw the entrance into Kowloon Park, so decided to get a little respite from the heat (yes, it was getting hot!).
Kowloon Park is amazing! Such an incredibly large piece of greenery in the heart of a shopping district! In Kuala Lumpur, it woulda been made into a shopping mall by now! The park had many little ponds, plenty of place to sit down, playgrounds and workout areas, and an aviary.
We opted to head to the aviary, a caged area in the heart of the park, housing mainly parrots, parakeets and birds of that kind of nature. Some were huge and most were resting because we were there probably around lunch time, when it was the hottest! We spent maybe an hour or so in the park and aviary when we decided to head back out again. As usual, our adventurous nature saw us take a totally different exit from where we entered and we were a bit lost.
The exit we took was on Canton Road, but on the map, heading back to Nathan Road and then to the harbour seemed incredibly far. But in the end, we opted to walk and ended up on Nathan Road again, albeit a little bit more hot and grumpy than when we first started down Nathan Road.
I believe we ended up at Victoria Harbour, at least that was what we were told. We were under the impression that we were near Star Ferries, but apparently not. The whole area was so packed, and already hot and grouchy, the crowd didn't boost our mood at all. Eddy decided to call a former student, who was working in Hong Kong, and who had said he'd be happy to come meet us and take us around. But at that beehive of activity, there was no place to sit, no toilets and so we stood at an entrance of a mall for the air conditioning, while I silently cursed my warm shoes and socks!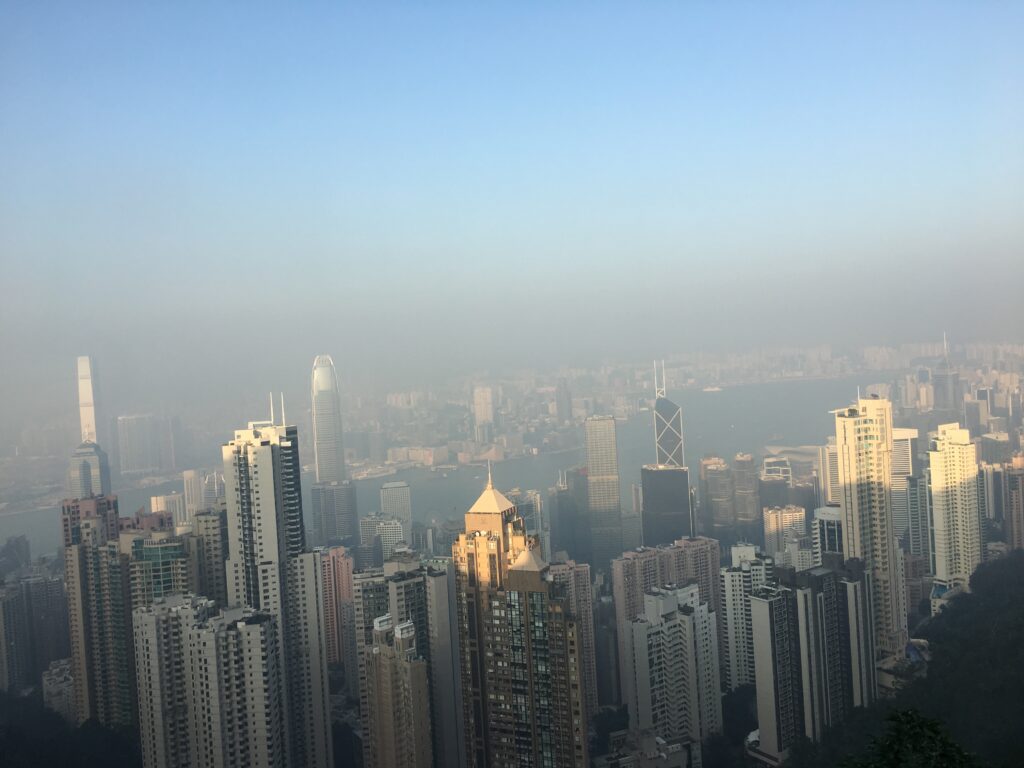 Thankfully, Eddy's former student turned up rather quickly, and after a brief chat, and a brief look interlude in McDonald's, we took ourselves to Starbucks, the only place with seating for us. Digressing to public toilets in Hong Kong – they are few and far between. This is something I experienced in Paris. So my advice to you, if you see a toilet in HK, whether you need to go or not, just go! Because you don't know when you will see the next!
Okay, back at Starbucks, we cooled down, had our coffee, I used the WiFi and we decided to head to Victoria Peak. That was an exciting journey. We used the MTR to head to Central (or did we walk to Central Station?), and got the bus from there to Victoria Peak, the highest peak on Hong Kong island, and an incredibly popular tourist destination.
The bus ride to the peak was about half an hour, windy and steep but invigorating. The peak was packed, as mentioned, and had tourists from everywhere and every language you could hear. Most were mainland Chinese or Koreans but I really heard a lot of German in Hong Kong! There's loads of things you can do at the top, including visiting HK's Madam Tussauds (which we didn't – I mean, I didn't in London, why would I in Hong Kong?).
The view at the top of Victoria Peak was amazing! Getting a spot to view the peak was another matter, but in the end we did manage to get some really good shots, enjoy the cool weather and take in the tremendous urban view! After that, we decided to take a walk to Victoria Peak Garden, even further up the hill, and an activity we kinda regretted because of the steepness of the walk and the narrowness of the road.
The garden itself was nice, I suppose, but we were slightly underwhelmed, I think mainly because we were so tired. So we trudged back down to queue for the tram to take us back into the city. And the tram! This is something I really enjoyed, we hurtled down the hill, sometimes at what felt like a greater angle than 45 degrees, and sadly it was night time, so I didn't get the full joy of the ride! But still, it was amazing zooming by buildings, being totally disoriented because you're looking at incredible angles of the buildings, then realising the slope was so great! I would do it again during the day!
We ended up in Jordan again for dinner. Because we were so tired, we opted for the one of the first things we saw – Thai food. "Thai Food" is misleading because it didn't taste like Thai food at all! Maybe a watered down, blander version of Thai food, but we were so tired and so hungry, we wolfed down every morsel before heading back.
It was an awesome first full day in HK and I loved what I saw and experienced! The next day proved to be even better! Stay tuned!
Click here for the first day, and here for the final day!